Our Customers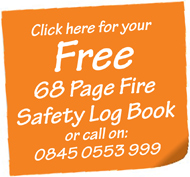 Customer Testimonials


Written by terry on January 7, 2009 at 15:39
A hotel management company has been fined more than £35,000 after serious breeches were found following a fire. 
Mill House Inns Trading admitted breaking Fire Safety Regulations at The White Swan Hotel in Arundel in Sussex at a hearing before Worthing Magistrates.  The court had heard that the fire had broke out at the hotel in March 2007 and 10 guests wre found to be trapped in their bedrooms were firefighters resuced them.  Their was no serious injuries reported. 
On investigation by fire officers they revealed a series of lapses of Fire Safety security.  Evidence given to the court revealed that the fire alarm panel was switched to silent, fire doors had been wedged open, staff had not recieved any adequate fire training, the fire alarms had not been tested correctly and their was no overall emergency plan. 
The company was fined £25,000 with £11,000 costs.  After the hearing the director of community protection Trevor Pilcher said "This hotel had the right physical precautions in place like smoke detectors, self closing fire doors, emergency lighting and fire extinguishers, but all that becomes ineffective if the management of the fire precautions isn't good enough"