Our Customers
Customer Testimonials
Written by terry on May 7, 2013 at 10:28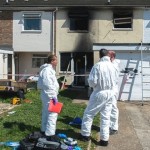 A man has died in a "severe" fire that tore through a terraced house in Essex.
Seven fire crews battled to get the fire under control, in Stanley Road, Clacton on Monday morning.
Woman and a toddler were rescued by neighbours in Stanley Road, Clacton, after smashing a bedroom window but the man could not be saved.
It is believed rescuers pitched a ladder to a first floor bedroom to bring the woman and child to safety.