Our Customers
Customer Testimonials
Written by terry on March 29, 2013 at 10:00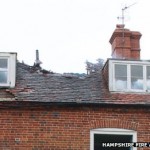 A grade II listed property in Appleshaw, Hampshire was badly damaged following a house fire  where 60 firefighters from Hampshire and Wiltshire were called to the scene.   Hampshire Fire and Rescue Service said the roof of the family home was "well alight" when they arrived, however  no-one was injured in the blaze.
The house is occupied by John Goold and his family and he described the experience:  "I thought 'That looks a bit too close to home', and when I got back the family were in the garden in their pyjamas.  "There was a lot of smoke and it was pretty scary. I can't overstate how amazing the fire brigade were," he said.
The cause of the fire is still being investigated.