Our Customers
Customer Testimonials
Written by terry on April 25, 2013 at 13:19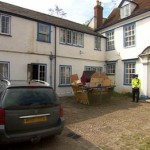 A man is in a critical condition after he was rescued from a fire at a care home in Oxfordshire.
The blaze broke out at about 04:15 BST.
the 48-year-old was rescued from The Knowl on Stert Street, Abingdon and was treated at the scene for burns and smoke inhalation before being taken to the John Radcliffe Hospital, Oxford.
Oxfordshire Fire and Rescue Service and Thames Valley Police are investigating the cause of the blaze, which is being treated as unexplained.
Image courtesy of BBC news