Our Customers
Customer Testimonials
Written by terry on April 15, 2013 at 11:06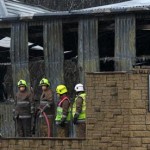 Fire broke out at a Scottish zoo in the early hours of Sunday morning leaving reptiles, insects and an otter dead.
The alarm was raised at about 4am. Around 50 firefighters tackled the blaze at the reptile house of Five Sisters Zoo in Polbeth, West Lothian.
Lesley Coupar, from marketing and visitor services at the zoo, described the blaze as "the worst nightmare".
"We're in the business of rescuing animals, giving a safe haven to animals," she said. "To look now at the shell of the reptile house and everything gone from there, it's just the worst tragedy ever. The owners are obviously distraught, as are we all. We're all animal lovers.
Full details of the animals affected will not be available until it is safe for zoo staff to access affected areas. Apart from the otter, the animals that died were in the reptile house.
An investigation into the cause of the fire will be launched.