Our Customers
Customer Testimonials
Written by terry on March 26, 2013 at 10:00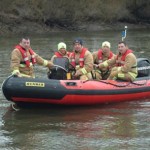 A £50,000 river rescue boat has finally been received by fire crews in Selby.
Crew training has been continuing at Nottingham's Home Pierrepoint National Watersports Centre ahead of the boat's arrival.  This was delayed after the original craft was found to be too small to be used in tidal rivers.
The boat was intended as a national asset which could be called into action around the country in times of emergency and both Red and Blue Watches at Selby Fire Station each have four members trained as coxswains.
Image source:  www.yorkpress.co.uk