Our Customers
Customer Testimonials
Written by terry on April 26, 2013 at 10:36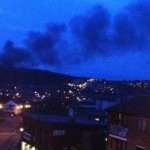 Firefighters were called to the Ski Village on Vale Road at about 20:30 BST last night.
The fire broke out at a Sheffield outdoor ski centre, nearly a year after a series of fires shut down the site.
South Yorkshire Fire and Rescue said the service had received more than 120 calls about the latest blaze at Ski Village on Vale Road.
21 firefighters were at the scene, a spokesperson said a large wooden shed and outbuildings were alight.
The main building of the Ski Village was destroyed by fire on 29 April 2012.
That fire was ruled to be an accident but investigations showed two further fires on 1 May and 21 May were started deliberately.
Image courtesy of BBC news