Our Customers
Customer Testimonials
Written by terry on April 3, 2013 at 10:30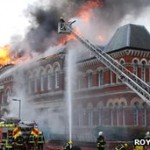 Last week a fire broke out in a building in Southwark which houses a library, a museum and the council "one stop shop".
The blaze in the four-storey building in Wansey Street, Walworth was tackled by almost 120 firefighters and 20 fire engines, with the roof of the library and museum on fire..
30 people were evacuated from inside the building, which houses Newington Library and no injuries have been reported.
Councillor Peter John, leader of the council, said: "It is too early to say what the cause of the fire is and how long services from that building will be suspended for.
"Whilst our first concern is for the safety of residents and our staff, we are also worried about possible damage to the museum's collection."
It is not known how the blaze started, the fire brigade said.
Image courtesy of BBC News