Our Customers
Customer Testimonials
Written by terry on December 1, 2011 at 11:12
60 firefighters were called to attend a large fire which broke out at the Mulberry Business Park in Wokingham at around 4pm on 26th November.
The fire was on the ground floor was brought under control quickly but several windows were blown out at the height of the blaze.
Bryan Morgan from the Royal Berkshire Fire and Rescue Service said: "We arrived at the scene after receiving calls from several members of the public to find a severe fire burning in the first floor. We were able to get inside and tackle the flames from the inside and I have to praise the crews involved for getting it under control so quickly."
Eye witness, Robert Hughes said that he could smell burning plastic and flames were visible. Mr Hughes said: "My daughter was the first to tell me about it who lives just up the road. There must have been at least 24 firefighters. You could see the flames and smell burning plastic."
The cause of the fire is not yet known.
The Regulatory Reform (Fire Safety) Order 2005 states that you: 'must make a suitable and sufficient assessment of the risks to which relevant persons are exposed'
This means that all companies as a first point in their Fire Safety must complete a Fire Risk Assessment.  This must be carried out by a competent person, who is trained to perform risk assessments.  Your Fire Training needs, your fire extinguisher needs and any other fire safety related issues you will need to address will be highlighted from the Fire Risk Assessment.
Our team of experienced and qualified Fire Risk Assessors will perform a full Fire Risk Assessment of your premises, and provide you with a comprehensive document detailing the risks found and recommendations to minimise the risks.
Written by terry on August 4, 2011 at 20:55
A fire broke out at a Salford construction site at around 1.30am on 4th August.
50 firefighters from the Greater Manchester area attended the scene on Ordsall's Phoebe Street and used water jets, ground monitors and hydraulic platform vehicles to tackle the fire.
Over 30 neighbouring properties were evacuated.
The site was being used to build 79 new apartments and a Morrisons supermarket. It is thought that only the apartment side of the site was damaged in the fire.
It is not known what caused the fire but an investigation will now be carried out.
Footage of the blaze can be seen here.
Construction sites are dangerous places for numerous reasons.  There are many portable electrical tools, oxy acetylene cylinders, combustible materials and numerous other types of equipment.
The fire risks associated with construction sites pose a significantly higher risk than normal office premises.  In view of this, the Fire Training Academy has developed a course which specifically designed for Construction Sites.
The course is designed for relevant personnel to manage fire safety on construction sites in line with the 'Joint Code of Practice' Fire Prevention on Construction Sites.
The course includes the following:
Application and scope of Fire Safety Legislation
Fire Prevention on Construction Sites
General Fire Precautions
Human Behaviour in Fire and Smoke
Fire Safety Duties
Management of Fire Safety
Site Fire Safety Co-ordinator
Fire Safety Plan
Emergency Procedures
Managing Life Safety Systems
Fire Hazards on Construction Sites
Practical Exercises
Practical Fire Extinguisher Training
Get in touch if you would like further information on this course.
Written by terry on January 28, 2011 at 14:10
Fiery Dragon's Den star Rachel Elnaugh joins Fire Training Academy in a fire safety training lesson.
The team showed Rachel how to tackle a fire safely using a household fire extinguisher.  Rachel got stuck in and extinguished the fire very professionally.
Rachel is an entrepreneur and business mentor, and with a little more training from FTA could even add Fire Warden to her impressive CV!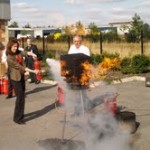 Written by terry on December 29, 2010 at 09:29
If it is part of your job role that you need to maintain portable fire extinguishers then you should seriously consider attending this training course. You may be a facilities management operative, fire safety technician or marine engineer; whatever the specifics of what you do, if it involves working with this equipment then this may be for you.
This particular fire safety course is also something which is really useful for anyone who gives out technical advice on fire fighting equipment as part of their duties as well as sales people who need to understand what products they are promoting.
It is a four-day course, based in different locations across the United Kingdom so you should have no trouble finding training near to where you are based.
The objectives of the course are to give you the skills necessary, plus the knowledge required, to be able to install and maintain portable fire extinguishers to BS5306-3: 2009 and BS- 8: 2000 standards.
A mandatory examination will need to be carried out in order to ensure you are competent in accordance with current regulations. Once this has been completed successfully you will be eligible to undertake the comprehensive training which consists of three full days combining both theory and practice so you are able to perform your role safely and effectively.
Written by terry on November 20, 2010 at 10:40
It has been confirmed that an arrest has now been made regarding the throwing of a fire extinguisher from the top of a building amidst the Millbank riot in London last week, with a university student called in for questioning.
The suspect, a 23-year-old male student from Anglia Ruskin University in Cambridge, has been arrested on suspicion of violent disorder when a fire extinguisher was thrown in the direction of two territorial support group officers.
The empty metal fire extinguisher was flung from the top of Millbank Tower and only just missed the police officers.
A spokesman for the Metropolitan Police said: "This arrest follows an investigation into public disorder where a fire extinguisher was thrown from the roof of Millbank Tower."
An Anglia Ruskin University spokesman confirmed:
"We understand that one of our students was arrested earlier today in connection with the incident at Millbank Tower. We are co-operating fully with the police in their inquiries."
The fire extinguisher incident was one of a number of public disorder offences carried out by demonstrators on the day, with 54 people aged 18 to 26 arrested. The protests began over the proposed increase in tuition fees for students going to university.