Our Customers
Customer Testimonials
Written by terry on May 10, 2013 at 08:00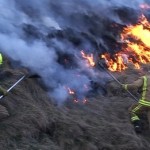 About 90 firefighters from two counties tackled fires between Mytholmroyd, in West Yorkshire, and Littleborough, Greater Manchester.
At its height, the fire front stretched for more than one mile (1.6km).
Fire service officials hope predicted rainfall will dampen moorland and the weather will help prevent further outbreaks.
Robin Ward, of West Yorkshire Fire and Rescue, said: "It's very much an on-going situation, we'll be monitoring it for the next couple of days.
Pete Buckley, from Greater Manchester Fire and Rescue Service, said crews had been forced to withdraw from the hillside as darkness fell on Tuesday evening "for safety reasons" and were then tasked with protecting "isolated local buildings".