Our Customers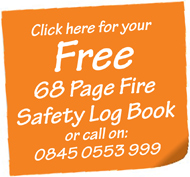 Customer Testimonials


Fire Extinguisher Technician Course
| | |
| --- | --- |
| Course: | Fire Extinguisher Technician Training |
| | |
| Who Should Attend: | Anyone who is required as part of their duties to maintain portable fire extinguishers this extends to Fire Safety Technicians, Facility Management operatives, Marine Engineers and it is also most useful to anyone involved in the sales of such equipment or who provides technical advice on fire fighting equipment. |
| | |
| Location: | Various locations around the UK |
| | |
| Length of Course:  | 4 days |
Course Objectives:
To provide underpinning knowledge and skills necessary for the installation and Maintenance of Portable fire extinguishers in accordance BS5306-3: 2009 and BS- 8: 2000.
To prepare delegates to successfully complete the mandatory examination for a 'Competent Person' as defined in BS5306-3:2009.  Success in the examination is a Pre requisite for anyone wishing to join a third party accreditation scheme.
Information on the course:
The course is conducted over 3 days and provides comprehensive training to ensure that delegates are equipped with sufficient underpinning knowledge and skills to demonstrate through a written and a practical examination that they can operate safely and effectively in the field.
Delegates must be capable of actively take part in the theoretical and practical elements of the course including use of the course manual and completion of written work. 
Introduction
Health & Safety
Background legislation and Regulations
Theory of Fire
BS EN3 Extinguisher Construction
Classification of fire and Extinguisher Fire Ratings
Provision and Siting of Extinguishers
Periodic Inspection/Maintenance of Extinguishers
Extinguishing Mediums and Propellants
Practical hands-on Servicing
Live Fire Extinguishing Experience
Examination Preparation
Day 1 to 3 – Theory and practical
Day 4 - 2-Hour Written Examination Paper and One to One Practical Examinations.
Q. How do I book?
You can either call our booking line on 0845 0553 999 or
Download our booking form, fill it out and simply fax it to us or
Complete our On-line Booking Form and hit send.
To book or for more further information please call us on 0845 0553 999 or go to our Contact Us Page
Read our latest customer reviews here: