Our Customers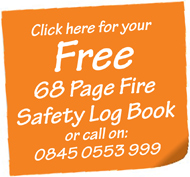 Customer Testimonials


Fire Training Academy - Other Services we provide
Due to many requests from our customers about other fire safety services and health and safety services, the Fire Training Academy perform a number of other services to allow you to utilise our highly experienced and competent team.
Fire Risk Assessments
By law, all companies must complete a Fire Risk Assessment.  We have highly experienced Risk Assessors who perform these on your premises and provide a comprehensive document.  Please refer to our Fire Risk Assessment section for more information or call us now on 0845 0553 999 for more information.
Fire Fighting Equipment supply and service
We can supply all required fire fighting equipment that you would require and offer service contracts or ad-hoc servicing as required.  Please refer to our Fire Fighting Equipment section for more information, or go to our online shop to view the products available
Fire Risk Management Services
With all of the legal requirements relating to Fire Safety, from Fire Risk Assessments, to Fire Training, Fire fighting equipment, emergency plans, and more, it can be overwhelming for businesses to cope with all of it, not to mention time consuming for the employees.
The Fire Training Academy can help.  With our experience and expertise, we can manage these functions for you; provide all the relevant services leaving you to run your business knowing that you are complying with the law, helping to keep your business and employees as safe as possible.
Fire Alarm Installation and Servicing
Many businesses have Fire Alarms systems installed.  At the Fire Training academy, we have experienced engineers who can design and install your fire alarm system, ensuring it meets all legal requirements.  Following this we offer a servicing contract or can provide ad-hoc servicing, whichever suits your needs.  Please contact us for further information
Evacuation Training
An important part of Fire Safety is planning and carrying out an evacuation in the event of a fire.  Many companies have an evacuation plan and practice this, but what would happen if there was a real fire and an exit was blocked.  We can carry out evacuation training to help you plan for these events, ideas for when you perform practice evacuations.  Please contact us for further information
First Aid Training
We have teamed up with a training partner to provide First aid courses following many requests from our customers.  This ensures that you will receive the best training available, alongside the high quality Fire Training that we provide.  Please refer to the First Aid Training page for information on the courses.  Alternatively, please call us now on 0845 0553 999 for more information
Manual Handling Training
Our experienced trainers can provide manual handling courses on your site, and the courses are designed to meet the legal requirements and will be fun and informative for all attendees.  As part of Health and Safety legal requirements, this course meets those and provides the candidates with certificates showing they have completed the courses.
Please refer to the Manual Handling page. Or call us now on 0845 0553 999 for further information
PAT Testing
Another important part of protecting your business against fire is to ensure that all portable electrical equipment is PAT tested.  This basically means that anything that has a plug on it must be tested and certified fit for use.  This is also a legal requirement to do this.
To book or for more further information please call us on 0845 0553 999 or go to our Contact Us Page
Read our latest customer reviews here: