Our Customers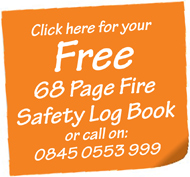 Customer Testimonials


Foundation Fire Risk Assessment
The Regulatory Reform (Fire Safety) Order 2005 states that you: 'must make a suitable and sufficient assessment of the risks to which relevant persons are exposed'
This means that all companies as a first point in their Fire Safety must complete a Fire Risk Assessment.  This must be carried out by a competent person, who is trained to perform risk assessments.  The Fire Training Academy does not run 1 day courses as these do not give the necessary skills for someone to be a competent person in accordance with the Order.

As of 2011 we now run a 6 day course the final day being an open book exam. This course combines the Risk Assessment Foundation course and the Fire Risk Assessment Course, following which if the candidate passes the exams, they will be competent to carry out Fire Risk Assessments. 
Fire Risk Assessment Foundation Course - For 2011 - This course has now been combined with the Fire Risk Assessment Course so contact us for future details on the new 6 day course!
This part of the course is designed for personnel who do not have any previous fire safety experience. This course will give them the necessary foundation knowledge to move onto the intensive Fire Risk Assessment course. This course is more focussed on basic fire legislation, how fire behaves and the types of fire safety systems including the maintenance of these. On the final morning of this course you will be required to sit an open book exam. You must pass this to gain access to the Fire Risk Assessment course.
Fire Risk Assessment Course - **New 6 Days Course as of 2011**
This course is designed for personnel who are responsible for conducting or reviewing fire risk assessments to meet the requirements of section 9 (1) of the Regulatory Reform (Fire Safety) Order 2005 – http://www.opsi.gov.uk/si/si2005/20051541.htm#9
The focus of this course is to look in depth at the legislation and how it is interpreted.  Following this the course looks at the requirements relating to the Fire Risk Assessment, the terminology relating to it and the principles.  It also looks at how the Fire Risk Assessment relates to any Health and Safety risk assessments, the scope these cover and the overall assessment.
There is a practical element to the course too where the candidate completes a Fire Risk Assessment of a live factory and offices.  On the final morning there is an open book examination.
Q. Where is the training held?
Both courses are held at our location in Rotherham, or we can provide the course at your premises.  The first 5 days are from 9am to 5.00pm and the candidates will retunr one week later to carry out the exams from 9am to 4pm, lunch and refreshments are provided. Please visit the Events Diary page for dates or call us now on 0845 0553 999 or go to our Contact Us Page
Q. How do I book?
You can either call our booking line on 0845 0553 999 or
Download our Booking form, fill it out and simply fax it to us or
Complete our On-line Booking Form and hit send.
See what candidates who have attended our courses are saying, visit our Customer Testimonials Page!
To book or for more further information please call us on 0845 0553 999 or go to our Contact Us Page
Read our latest customer reviews here: