Our Customers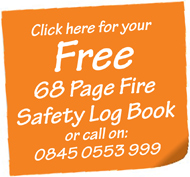 Customer Testimonials


Fire Extinguisher Supply and Service
All employers must provide staff with adequate means of tackling a fire in the workplace by law. Following this, there is a legal obligation for a competent person to service the fire fighting equipment at least annually.
The Fire Training Academy can provide these services.  All our high quality Fire Extinguishers are manufactured to BS EN3.  We supply:
Water           (Class A Fires)
Foam           (Class A / B Fires)
Powder        (Class A / B / C & Electrical Fires)
Co2              (Class B & Electrical Fires)
Wet Chemical (Class A and Class F)
We also supply fire blankets, fire safety signs and fire extinguisher stands. 
To purchase any of these, visit our online shop, or call us now on 0845 0553 999
Following the supply of the fire fighting equipment, we offer service contracts or ad-hoc servicing of the equipment to ensure that you comply with the law and that the equipment is in a serviceable condition.  Our engineers are FETA certified, so you know that you are being looked after by a highly experienced team.  Although extinguishers are serviced annually, every 5 years Water, Foam and Wet Chemical extinguishers must have a discharge test by law.  Co2 and Powder extinguishers must have discharge and pressure tests every 10 years by law.  The costs associated with pressure tests are usually prohibitive, so we would recommend that these are replaced with new extinguishers.
For all service contracts, we will contact you prior to the due date to let you know when we will be attending site so you do not have to worry!  If we have supplied you with new extinguishers, we will contact you a month before the annual service is due to remind you the servicing is due.
To enquire about the servicing of your extinguishers and service contracts, please call us now on 0845 0553 999 or go to our Contact Us Page
Read our latest customer reviews here: