Our Customers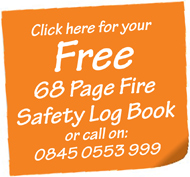 Customer Testimonials


Fire Evacuation Training
Q. What is the purpose of evacuation training; it's only a case of people leaving the building is it not?
Evacuating a building maybe not as straightforward as it seems!  It is a legal requirement to carry out evacuation tests as part of your fire safety strategy, which will be detailed in your Fire Risk Assessment.  You should have trained Fire Warden's that will perform evacuation procedures, but does this work sufficiently?  Evacuation training will allow you to compile an evacuation plan, implement scenarios to make these more realistic and what the potential problems that may occur that you need to look out for.
Q. We already perform evacuation drills, will this course help us assess if we are performing them right?
Yes, as we will give you the skills to assess what you currently do, and should help to identify problem areas.
Q. We have disabled people at our premises; will this course let us know how to deal with these?
Yes!  As part of the course, you will be shown how to deal with disabled persons in the event of an evacuation, how to use evacuation chairs, areas of relative safety and much more.  If you are unsure if you have disabled people in your workplace, check your Fire Risk Assessment which will highlight this.
Q. How long does the course last?
The evacuation course is a 3 hour course.  However, this can also be a full day where our experienced trainers, who have a minimum of 10 years operational service in a UK fire service, can attend in the morning to perform an evacuation (unannounced to the staff) to evaluate the procedures.  As part of this they will create scenarios that only the trainer will be aware of to assess what the staff do when faced with these.  Following this, they will then document their findings and produce these as part of the evacuation course in the afternoon.
To book or for more further information please call us on 0845 0553 999 or go to our Contact Us Page
Read our latest customer reviews here: