Our Customers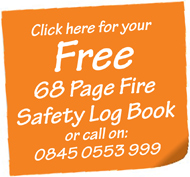 Customer Testimonials

Fire Warden Training Courses
The Fire Warden Training or Fire Marshal Training course is designed to give the Fire Awareness training that every employee requires, and then expand to train Fire Wardens/Fire Marshalls on their role not only in the event of a fire, but ensuring that the ongoing Fire Safety of the business is kept to the fore. This is achieved by monitoring and maintaining the vital Fire Safety equipment from the Fire extinguishers, to the Fire Alarm, to the emergency lighting.
Each of our experienced instructors has a minimum of 10 years operational experience in one of the UK fire services.
Q. I've trained all my staff in Fire Awareness, do I need to have Fire Wardens?
Yes, the Regulatory Reform (Fire Safety) Order 2006 states that you must have a sufficient number of competent people to perform evacuation duties as well as ensuring that the fire safety systems in your premises are fully functioning.
Q. How many Fire Wardens / Fire Marshals should we have?
The number of Fire Wardens required will be identified by your Fire Risk Assessment (Please go to our Fire Risk Assessment page if you need further information about this). You need to ensure you have enough Fire Wardens to cover you business in the event of a fire. If you work in a small unit with 1 floor, you may only need 2 but if you are on a big site with several multi-storey buildings and run 24 hours a day then you will need to ensure you have cover for each floor and building for all of the shifts, accounting for lunch breaks, sickness and holiday cover.
Q. Where is the training held?
Fire Warden Training is held at one of our locations around the UK, or we can provide the course at your premises. Please visit the Events Diary page to find one of our locations and dates or call us now on 0845 0553 999 or through our contact page.
Q. How do I book?
You can either call our booking line on 0845 0553 999 or
Download our Booking form, fill it out and simply fax it to us or
Complete our On-line Booking Form and hit send.
The training is performed by a presentation including DVD's. The presentation is followed by a comprehensive practical fire extinguisher handling program terminating with a "real" fire training exercise on a portable, environmentally friendly, propane fuelled fire trainer - each delegate will have the opportunity to extinguish different types and classes of fires.
Each delegate will receive a certificate confirming the completion of training.
See what candidates who have attended our courses are saying, visit our Customer Testimonials Page!
Our Fire Warden/Marshal venues around the UK:
Aberdeen, Birmingham/Streetly, Blackburn, Bristol, Cardiff, Carlisle, Coventry, Derby, Doncaster, Dundee, Edinburgh, Exeter, Gatwick, Glasgow, Hull, Ipswich, Leeds, Leicester, Lincoln, Liverpool, London/Finchley, Luton, Manchester, Maidstone, Newcastle, Norwich, Peterborough, Reading, Rotherham, Stoke, Southampton, Sunderland, Swansea, Wolverhampton, York