Our Customers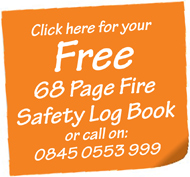 Customer Testimonials


Written by terry on February 4, 2010 at 12:24
PERSISTENT breaches of fire safety regulations have led to a bed and breakfast owner being faced with a bill of more than £8,000.
Michael Scott-Hake, 51, of the Edwardian Hotel, in Heavitree Road, Exeter, had denied two charges of failing to comply with enforcement notices issued by Devon and Somerset Fire and Rescue Service, but changed his plea at Devon Central Magistrates' Court, in Exeter, yesterday.
Prosecuting, Oliver Carlyon told the court that during inspections in 2007 and 2008 the hotel was found to have fire doors which did not comply with the latest regulations and was missing smoke alarms in several important areas.
Mr Scott-Hake was given several opportunities to carry out work to bring the hotel up to standard, but failed to do so, despite being offered advice by the fire service, the court heard.
In defence, Mark Shell said the hotel was fitted with fire doors that at one stage complied with regulations, but the rules had changed and his client had not been able to afford the necessary alterations. He said there were several smoke alarms at the hotel.
The chairman of the bench gave credit for a guilty plea, but, fining Scott-Hake £3,415 and ordering him to pay costs of £4,900, he said the breaches were serious.
"When one is dealing with a hotel, where people are paying to stay, there's a huge responsibility to comply with all current safety requirements," he said.
Group Commander James Holgate, of Devon and Somerset Fire and Rescue Service, said after the hearing that the work required to bring the hotel up to standard was relatively inexpensive when compared with the size of the fine and legal bill.
"Our fire safety officers work closely with businesses to help them comply with the Fire Safety Order but, when their responsibilities are not taken seriously, the service will always consider prosecution," he added.
"I would advise business owners that fire safety is a legitimate overhead that needs to be taken into account".
The decision of the magistrates is another reminder to all businesses to ensure they comply with the requirements of the law.
This clearly demonstrates how the service is committed to ensuring the safety of the community."
Mr Scott-Hake, was given 28 days to pay the fine and costs. He was not available for comment.