Our Customers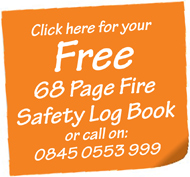 Customer Testimonials


Written by terry on September 19, 2008 at 11:24
The Fire Training Academy, based in North Anston, near Sheffield has created a free facility on line, designed to help businesses ensure that they are complying with the current fire safety legislation. 
Former Fire Fighter Terry Gormley, who founded the Fire Training Academy, is very committed to getting the fire safety message across to businesses, in a way that complements the highly praised and effective courses the Company delivers across the country.
The online service that enables business people to ask questions about any aspect of fire safety is already proving popular.
Terry takes up the story:
"I feel very strongly that businesses of all sizes and types need to be aware of and understand their responsibilities in the workplace – from fire risk assessments to training of employees."
"Since October 2006 fire training for all employees has become a legal requirement. The online dialogue with trained fire safety personnel we offer can be the first step for some businesses to ensure that they are fulfilling their legal obligations and helping to keep their employees and premises safe."
The online help will be maintained by up to 10 personnel at any one time.
The free online service and the free downloadable Fire Safety logbook can be found at www.firetrainingacademy.co.uk