Our Customers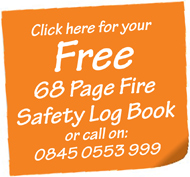 Customer Testimonials


Written by terry on January 7, 2009 at 14:36
The owner of a hotel in East Sussex has been fined more than £11000 in fines and costs of breaches of The Fire Safety order 2005.
Claudio Priori was found guilty of fire safety failings at The Chequers Inn Hotel in a trial at Lewes Magistrates Court in November.  The failings were found after fire crews were called to the hotel in March when the fire alarm had sounded.  The firefighters that attended found no fire bit could not find any of the staff at the hotel to assist.  On investigation they had uncovered a number of breeches including failing to complete a fire risk assessment also not maintaining the fire safety measures at the hotel and also not training their staff in fire training. 
Mr Prior pleaded not guilty to eight offences but at the trial in November he was found guilty on all counts.  He was fined for each of the severn offences and £500 for the eighth offence.  He was also ordered to pay costs of £3794 to East Sussex Fire Authority.  Summing up the case the magistrates said that they were still concerned that Mr Priori appeared to be still unaware of the risk of death or serious injury that staff and guests at the hotel were exposed to.  They had hoped that Mr Priori would now reflect on this.